Special assistance
Special assistance throughout your trip
We're dedicated to providing a positive travel experience for all customers. If you have questions or want to make special travel arrangements, you can make them online or call 800-433-7300, for hearing or speech impaired assistance, call 800-543-1586.
Learn more about:
Special assistance coordinators
Special assistance coordinators are available through Reservations to help you secure special assistance during your travel. If you requested special assistance during booking, they'll contact you before your departure flight to ensure necessary medical paperwork requirements or requests are arranged.
Contact Reservations if:
You'd like assistance from our special assistance coordinators

You need to make additional arrangements that aren't available online
Please let us know if you:
Need wheelchair assistance

Need help getting in and out of the plane

Are traveling with a service animal

Are traveling 7 days of your due date or after your delivery
Require adjacent seating for yourself and your personal care attendant

Are traveling with a battery-powered medical device

Need disassembly and packaging for your mobility assistive device

Have any other special requirement
We require at least 48 hours advance notice if you need to travel with:
A portable oxygen concentrators (POC)

An emotional support or psychiatric service animal
When booking on aa.com choose "special assistance required" when filling out your passenger details, then on the need page you can:
Request wheelchair service

Request individual assistance if you have a hearing, vision, cognitive or developmental disability

State if you're traveling with any electric medical equipment or a service animal (notice is required within 48 hours of your flight)
The American Disability Team is just a phone call away
We have designated Complaint Resolution Officials (CROs) here to help:
For questions, issues and arrangements prior to travel, please contact our Special Assistance Coordinators by calling Reservations

For issues or disability concerns that have occurred during or after travel, please contact our Disability Assistance Line at 800-892-3624 to reach a Complaint Resolution Official who will help with your issue. (If you are outside the United States, contact your regional American Airlines Reservations office.)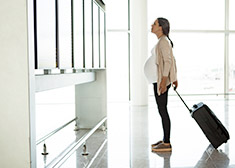 Health and welfare
More information to help you travel safely
Australian restrictions
Australian authorities requires that customers traveling to Sydney (SYD) must declare all personal medication on the arrival customer card when arriving in Sydney and carry medical documentation of the required use of such medication or the medication may be confiscated upon arrival.
Note: Passengers who require a syringe or similar during flight will need a doctor's letter or they may not be allowed to carry the syringe on the flight.
Hearing assistance
Let an agent or flight attendant know if you have a hearing disability, they can provide you with important flight updates. Also, open captioning for safety videos is available.
Vision assistance
Let an agent or flight attendant know if you have any vision needs and for assistance to the ticket counter or help you to your gate. If you would like a courtesy wheelchair, need arm assistance or directions, please make your request during booking or ask an airport representative.
Cognitive and developmental assistance
We provide assistance to individuals with cognitive and developmental disabilities during boarding, connections and deplaning. Customers who require personal or continuous attending care or who are unable to follow safety instructions must have a safety assistant traveling with them.
Special seating
We'll do our best to secure the most comfortable and usable seats based on your needs. Please choose seats when you book or call Reservations for help booking the best seat to suit your needs, especially if you:
Plan to travel with a safety assistant or someone to assist you during the flight

Can't move over a fixed armrest

Are traveling with a service animal

Have a fixed or immobilized leg

Need extra space
Customers that need extra space
For the safety and comfort of all customers, if a customer's body extends more than 1 inch beyond the outermost edge of the armrest and a seat belt extension is needed, another seat is required. We encourage customers to address all seating needs when booking.
When you call to book, Reservations will make sure you get 2 adjacent seats at the same rate.

If you didn't book an extra seat in advance, ask an airport agent to find out if 2 adjacent seats are available.

You may be offered a seat in a higher class of service that may provide more space; in this case, you'll be responsible for the fare difference.

If accommodations can't be made on your original flight, you can buy seats on a different flight at the same price as your original seats.
Voluntary emergency services
We permit qualified law enforcement officers, firefighters and emergency medical technicians to volunteer services during in-flight emergencies through our Voluntary Provisions of Emergency Service Program.
A copy of Part 382 may be obtained from the Department of Transportation by:
Calling the hotline for air travelers with disabilities at 800-778-4838 or 800-455-9880 (TTY)

Calling the Aviation Consumer Protection Division at 202-366-2220 or 202-366-0511 (TTY)

Writing to the Air Consumer Protection Division, C-75, U.S. Department of Transportation, 1200 New Jersey Ave., SE., West Building, Room W96-432, Washington, DC 20590

Visiting the Aviation Consumer Protection Division website