New! Learn about the new American Airlines Flagship (SM) Experience for Business and First Class service to Europe, Asia and Latin America.
At American Airlines, our goal is to provide a relaxing and comfortable flight experience for every single passenger.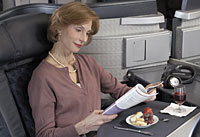 In our cabins, you'll enjoy the uniquely designed interiors with your comfort in mind. We've carefully selected customized cushions for each seat to provide the maximum comfort throughout your flight.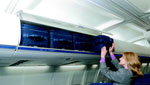 We've also installed large and extended bins on most of our aircraft. They give you more storage space and allow you to store and retrieve your roll-aboard bags wheels-first, making boarding and deplaning faster and easier. Also, bring your laptop or DVD player and stay powered up.
For our customers traveling on a Boeing 777, we offer Gate Connect - an easy way to find connecting gate information and more!
Information about American's commitment to keeping passengers and employees safe at all times is also available.